Sig Sauer P320 TACOPS 9mm on 5/10/17…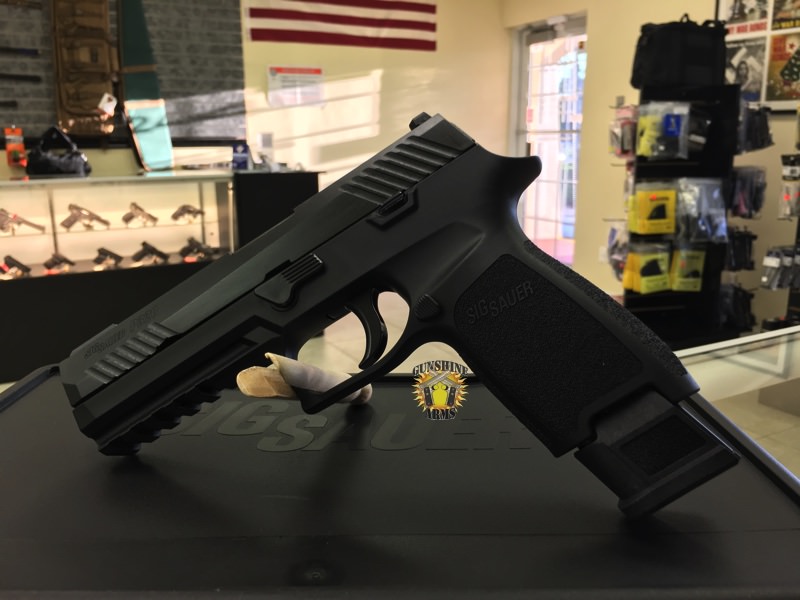 Good evening all and Happy Humpday!  There has been a lot of press about the Sig Sauer P320 this year.  The P320, which recently won the U.S. Army's Modular Handgun System competition, was adopted by the Army as the M17 back in January.  Troops with the 101st Airborne Division at Fort Campbell in Kentucky will receive the new sidearm first.  GLOCK got in the middle of this mix by protesting Sig being awarded the contract and Steyr decided to throw their two cents in by suing Sig Sauer for patent infringement.  You know what they say….there is no such thing as bad publicity…and Sig is basking in the warm glow of the industry's envy.
All of this hype doesn't take away from the fact that the P320 is a very serious pistol at a very reasonable price point.  There are different frame sizes and calibers available but the one that came through the door today is draped in badassery.  Meet the Sig Sauer P320 TACOPS chambered in 9mm.
The P320 Full offers a smooth, crisp trigger to make any shooter more accurate, an intuitive, 3-point takedown and unmatched modularity to fit any shooter and any situation. Its full-sized frame is ideal for target shooting and home defense. This modular, striker-fired pistol features a full-length grip, full-length slide, TFO front and SIGLITE Night rear sights, and (4) 21-round magazines. Safety features include a striker safety, disconnect safety and optional manual safety. One of the nicest triggers, sight pictures and highest capacity magazines out of the box from a manufacturer known for innovation and quality.  Tax return check catnip has arrived.  As always, thank you for reading the Blog at gunshinearms.com