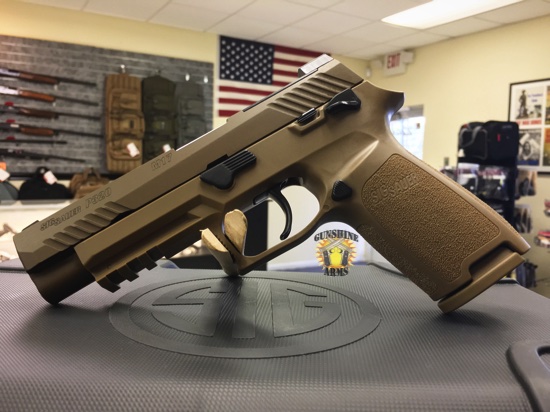 The new Sig Sauer P320 M-17 has landed!  This has been the most talked about weapon in the industry over the past couple months with good reason.  There is a whole lot of weapon here for the price point it's being offered at.  This is the civilian version of the weapon that was awarded a U.S. Military contract for new sidearm.  The story and the specs are offered below from Sig Sauer.
After one of the most rigorous and highly competitive review processes in the history of military firearms the SIG SAUER M17 was awarded the Modular Handgun System (MHS) contract for the U.S. Army. The M17 is a P320-based platform, and was selected for its uniquely innovative modularity, uncompromising performance, and unmatched capability. The P320-M17 closely follows the specifications of the U.S. Army's M17.
"It was truly an honor for SIG SAUER to be chosen as the U.S. Army's choice with the M17. When the selection was announced, civilian interest in the pistol was immediate," said Tom Taylor, Chief Marketing Officer and Executive Vice President, SIG SAUER, Inc. "We are proud to bring this P320-M17 to the marketplace to meet the substantial civilian interest, and the high demand, to own the pistol the Army uses as well as the other branches of the U.S. Military."
The P320-M17 is a 9mm, striker-fired pistol and comes with two 17-round magazines. The pistol features a coyote-tan PVD coated stainless steel slide with the same optic cut as specified by the MHS contract, and black controls just like the pistols currently being shipped to the U.S. Army; it comes equipped with a SIGLITE front night sight and removable Night Sight rear plate. The P320-M17 features a coyote-tan carry-length grip module, available in three sizes, and comes standard with a manual safety. Non-manual safety P320-M17 pistols will be shipped at a later date.
The P320-M17 Specs:
Total length: 8″
Barrel length: 4.7″
Weight (incl. magazine): 29.6 oz.
Height: 5.5″
Width: 1.3″
Sight radius: 6.6″
As always, thank you for reading the Blog at gunshinearms.com