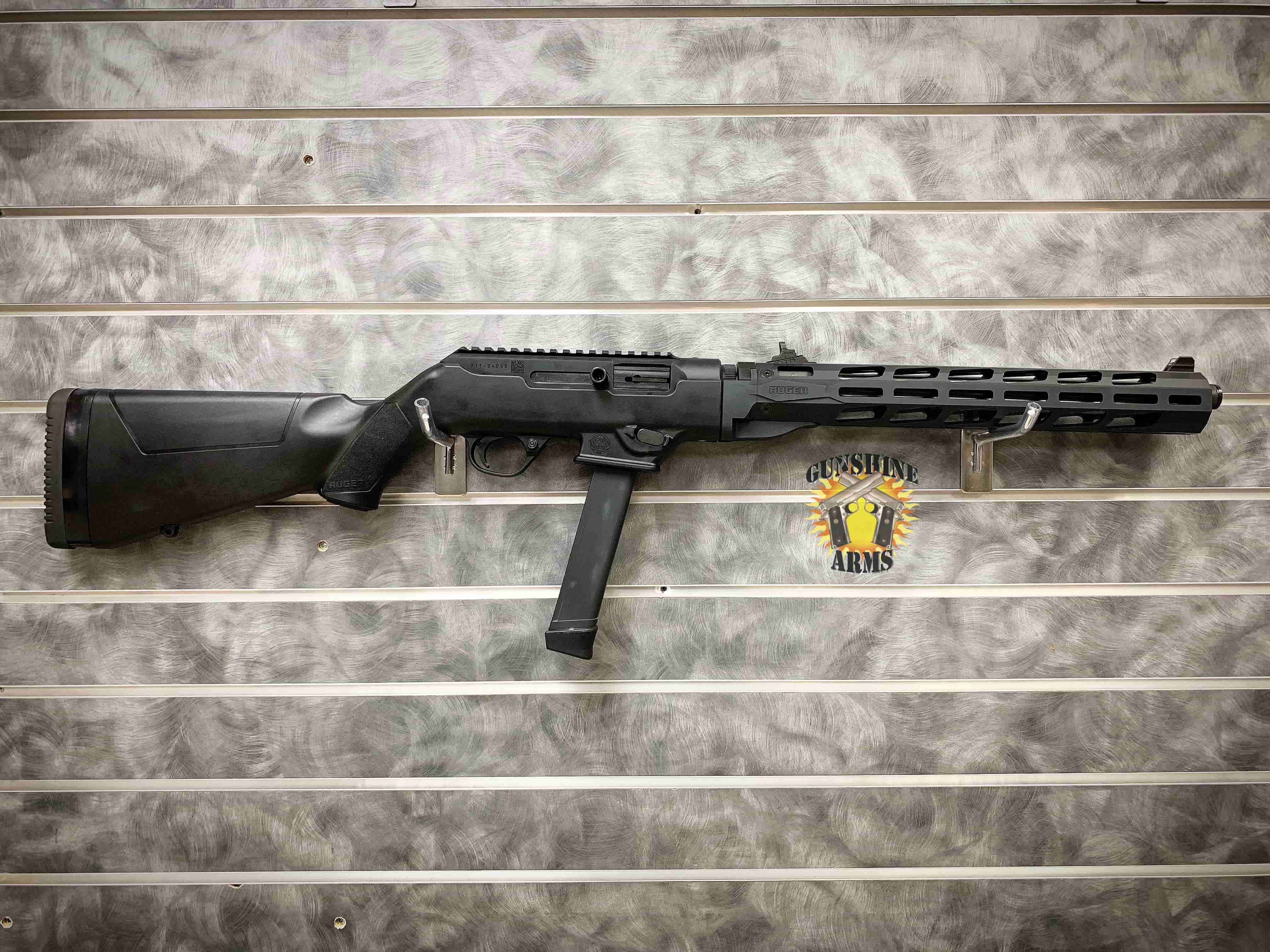 The Ruger PC Carbine MLOK is back in the shop.  This is a new version of the PC Carbine that was released a little over a year ago.  There are so many great features on this rifle, it's hard not to want to buy one of these while I'm writing about it!  The major difference from the original version is the CNC-milled handguard that is Type III hard-coat anodized aluminum for maximum durability.  The handguard now comes with with Magpul M-LOK accessory attachment slots on all four sides for easy mounting of M-LOK-compatible rails and accessories.
The same awesome features from the original continue to shine in the updated Ruger PC Carbine MLOK.  The biggest smile comes with interchangeable magazine wells for use of common Ruger and Glock magazines. Ships with SR-Series/Security-9 pistol magazine well installed and an additional magazine well accepting Glock magazines is included.  Obviously, I've already installed the Glock magwell for the potential buyer that wanders into the shop.  It's a quick swap back if you run Ruger handguns and want the Ruger magwell installed for you.
Easy takedown enables quick separation of the barrel/forend assembly from the action for ease of transportation and storage. Takedown is as simple as locking the bolt back and verifying that the rifle is unloaded, pushing a recessed lever, twisting the subassemblies and pulling them apart.
Dead blow action features a custom tungsten dead blow weight that shortens bolt travel and reduces felt recoil and muzzle rise. Bolt is machined from heat treated, chrome-moly steel to ensure strength, structural integrity and durability.
Reversible magazine release and reversible charging handle to support ambidextrous use or one-handed control manipulation while maintaining a proper firing grip*.
Cold hammer-forged, chrome-moly steel barrel with ultra-precise rifling provides exceptional accuracy and longevity. The heavy contour barrel provides consistent accuracy, while barrel fluting sheds unnecessary weight and allows for quick handling.  Threaded barrel with included thread protector allows for use of standard muzzle accessories.  Accurate sighting system with adjustable ghost ring rear aperture sight and non-glare, protected blade front sight.
Soft rubber buttpad with spacers allows the rifle to be properly sized for different shooters or varying levels of outerwear or defensive gear (three, 1/2″ spacers included).  Durable, glass-filled nylon synthetic buttstock features a proprietary texture for enhanced control and an integral sling mount for rapid sling attachment .
Light, crisp trigger pull with minimal overtravel and positive reset utilizing proven 10/22® trigger components.  CNC-machined from an aerospace-grade 7075-T6 aluminum billet, the receiver includes an integrated Picatinny-style† rail and is Type III hard-coat anodized for maximum durability.  Also includes: one, SR-Series™ pistol magazine and hex wrenches for rear sight adjustment, buttpad spacer adjustment and charging handle removal.
The Ruger PC Carbine MLOK is a straight up home run from the folks at Ruger.  If you are looking for a 9mm carbine at a fantastic price point with awesome features, you found it.  Come by the shop and take a look.  As always, thank you for reading the Blog at gunshinearms.com