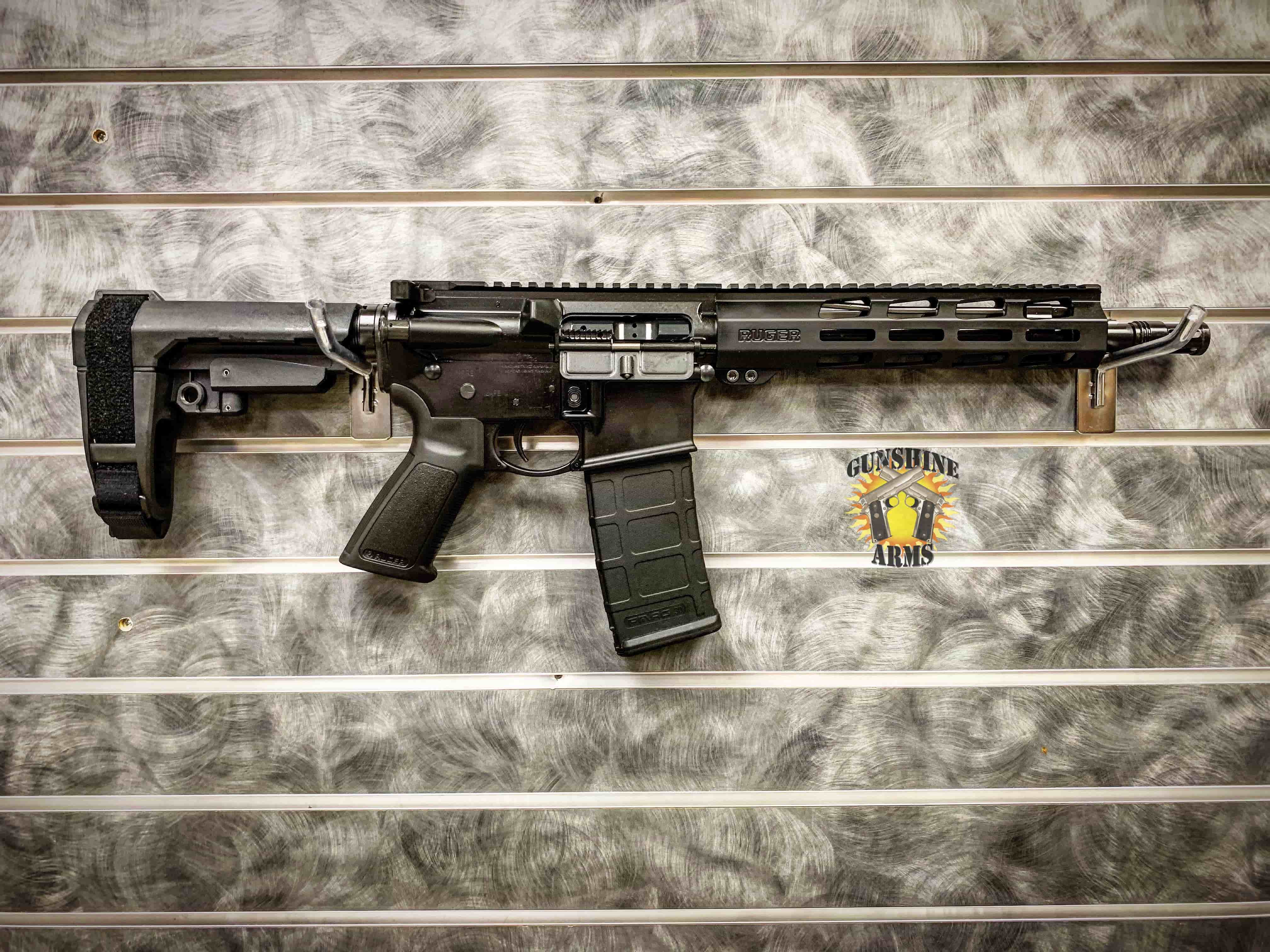 The new Ruger AR556 Pistol is the bargain you're looking for!  If you're in the market for an AR Pistol with a ton of desirable features, a lifetime warranty,  and a price tag that will put a smile on your face…you've found it.
The lower receiver is fitted with an adjustable SB Tactical SBA3 Pistol Stabilizing Brace to aid in accuracy, balance and recoil management.  The handguard is free-floating for accuracy and the slim, 9″ length provides enhanced ergonomics and support. Magpul M-LOK accessory attachment slots along the 3:00, 6:00 and 9:00 positions.  Made from aerospace-grade 7075-T6 aluminum forging, the flattop upper receiver includes a forward assist, dust cover and brass deflector.  The Bolt is machined from 9310 alloy steel and is shot peened and pressure (proof) tested to ensure strength, structural integrity and durability.  Carbine-length gas system ensures reliable function with a wide variety of ammunition.
The new Ruger AR556 Pistol has a cold hammer-forged 4140 chrome-moly steel barrel with ultra-precise rifling provides exceptional accuracy, longevity and easy cleaning. The 1:8″ twist rate stabilizes bullets from 35 to 77 grains, and the 5.56 NATO chamber allows the use of both 5.56 NATO and .223 Rem. ammunition. M4 feed ramps provide improved reliability, and the matte black oxide finish reduces glare and provides corrosion resistance.  Bolt carrier and gas key have chrome-plated inside diameters to provide exceptional resistance to hot gases. The gas key is staked so that it will not loosen after extensive firing. A matte black oxide finish on the exterior of the bolt carrier provides corrosion resistance.
There is a whole lot of weapon here at an affordable price of $700 plus tax and background.  This weapon is worth a look if you are trying to fill that AR Pistol void in your collection.  As always, thank you for reading the Blog at gunshinearms.com