RUGER AR-556 MPR & Springfield Saint FDE on 10/5/17…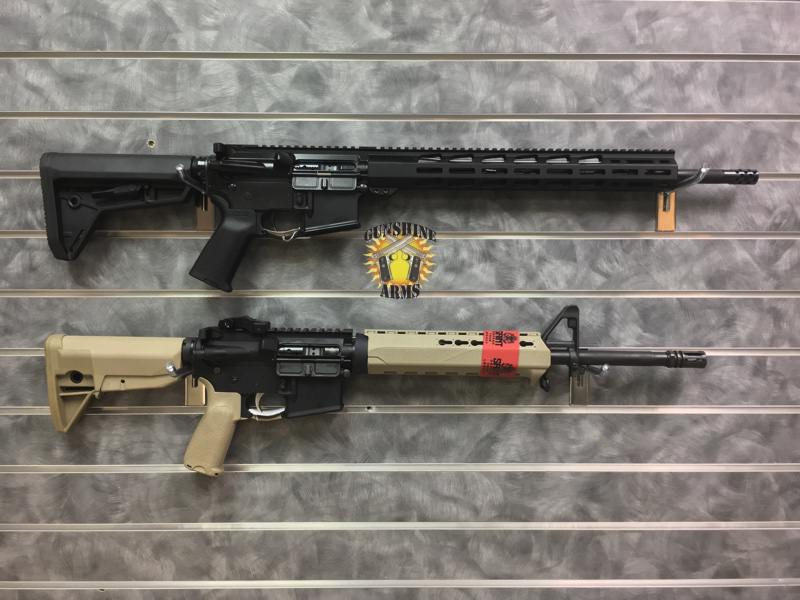 Good afternoon all.  A couple of new release rifles just hit the shop from both Ruger and Springfield today. The Ruger AR556 MPR and the Springfield Saint both offer tremendous value at their respective price points.  If you are in the market for a new rifle and not looking to break the bank, come down and take a look at these new arrivals.
The new Ruger AR556 MPR has a laundry list of nice features on a weapon that retails in the $700s.  The Lower receiver is fitted with Magpul MOE grip and the MOE SL collapsible buttstock on the Mil-Spec buffer tube.  The Handguard is free-floating for accuracy and the slim, 15″ length provides enhanced ergonomics and support.  Made from aerospace-grade 7075-T6 aluminum forging, the flattop upper receiver includes a forward assist, dust cover and brass deflector, and is Type III hard coat anodized for maximum durability.  The Ruger Elite 452 AR-Trigger is a two-stage trigger that offers a smooth, crisp, 4.5 pound trigger pull. It features a full-strength hammer spring for consistent primer ignition and a lightweight hammer that enables a 30% faster lock time over standard MSR triggers.  Rifle-length gas system provides smoother operation and reduces felt recoil.  Magpul M-LOK accessory attachment slots along the 3:00, 6:00 and 9:00 positions with additional slots on the angled faces near the muzzle.  Cold hammer-forged 4140 chrome-moly steel barrel with ultra-precise rifling provides exceptional accuracy, longevity and easy cleaning. The 1:8″ twist rate stabilizes bullets from 35 to 77 grains, and the 5.56 NATO chamber allows the use of both 5.56 NATO and .223 Rem. Ammunition. M4 feed ramps provide improved operational reliability, and the matte black nitrided finish provides corrosion resistance.  Chrome-plated bolt carrier inside diameter and chrome-plated gas key inside diameter provide exceptional resistance to hot gases. The gas key is staked so that it will not loosen after extensive firing. A matte black oxide finish on the exterior of the bolt carrier provides corrosion resistance.  Ruger muzzle brake is a radial port design that significantly reduces felt recoil and muzzle movement. The 1/2″-28 threaded barrel allows for standard muzzle accessories to be installed.
The Springfield SAINT's flat top design is optics ready and includes a flip-up rear aperture sight and fixed A2-style front. The 16-inch Chrome Moly Vanadium barrel features a 1:8 twist rate to handle a wide range of bullet types. The operation of the M16 bolt carrier group is managed by a mid-length gas system paired with a heavy tungsten buffer, resulting in an exceptionally smooth action. A good shot starts with the trigger, so that's why the SAINT AR15 features micro-polished and Nickel Boron treated components. While it offers the right pull weight for defensive use, you won't feel it.
Unlike most defensive rifles in its price range, the SAINT AR15 includes top notch furniture designed to improve both shooting experience and operator performance. An all new, exclusive Bravo Company PKMT KeyMod handguard packs heat shields and flexible attachment points into a slim and easy to handle form factor. The Bravo Company buttstock is rattle-free and complemented by a Bravo pistol grip designed to improve defensive performance.
As always, thank you for reading the Blog at gunshinearms.com