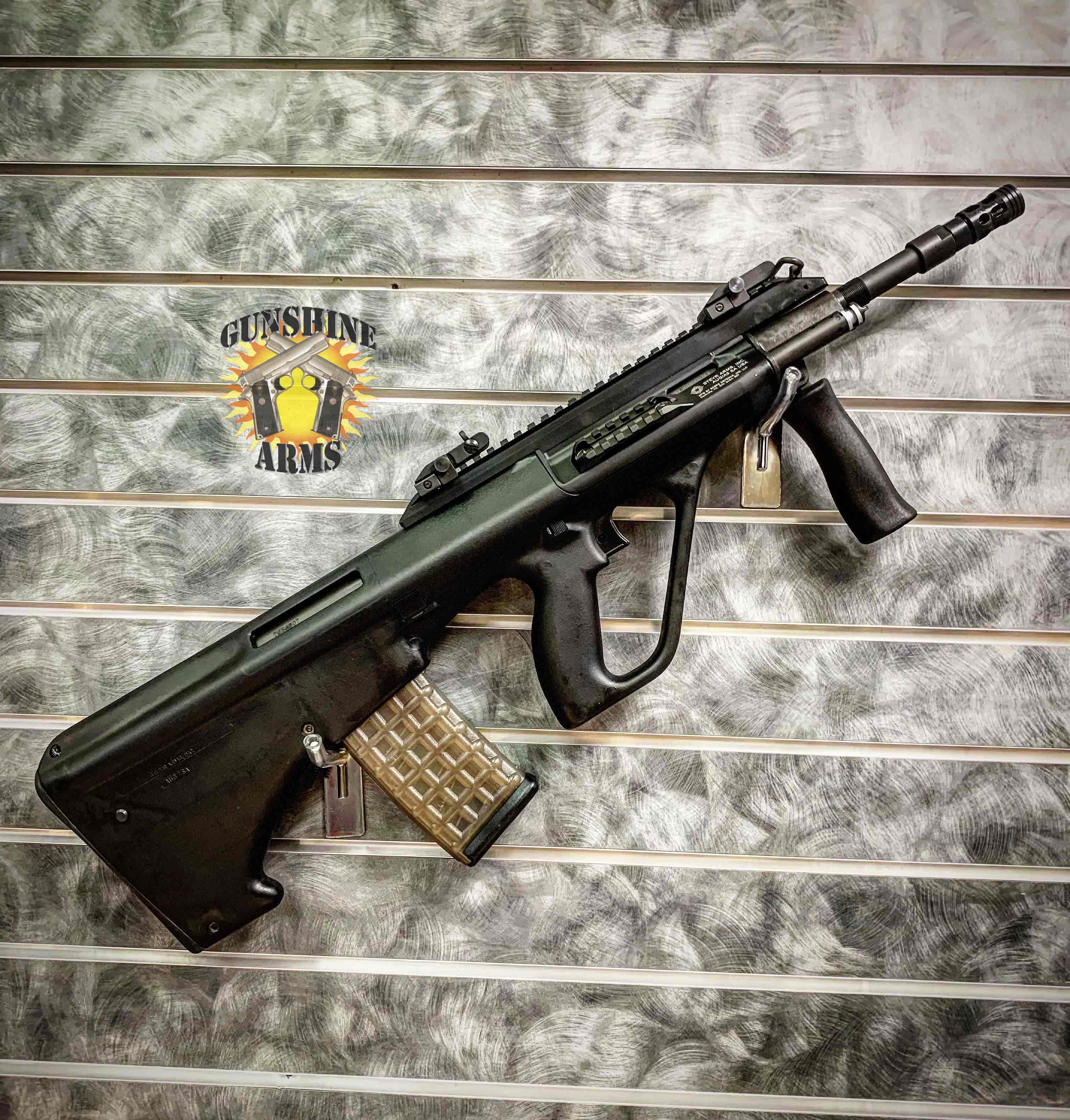 Anyone that has been looking for a deal on a used Steyr Aug A3 in pristine shape, this is your lucky day.  This weapon comes with a lot of extras that are all still in the packaging including 7 factory 30 rd magazines, the thread pitch adapter (not installed, still in packaging) that converts the pitch to 1/2×28, and a Trigger Tamer kit that lightens and smooths out the trigger on the Aug (not installed, still in packaging).  Someone bought a lot of nice things to go along with this weapon and then never did anything with it.  Their loss can be your gain!  The price point will put a smile on your face for sure.
These Steyr Aug A3 bullpup rifles with an overall length of 28″ and a barrel length of 16″ are a great alternative to bucking up for an SBR and waiting the year plus for the paperwork to make its way through the NFA Branch.
The short-stroke gas-piston operation of the AUG runs exceptionally cleaner by nature because all of the operational exhaust gas vents out of the front of the rifle. The AUG's matching, yet opposed, stainless steel operation and guide rods affixed to the bolt carrier glide effortlessly inside the receiver for unparalleled smoothness in operation as well as exceptional reliability. Dual gas-adjustment settings ensure its operation, even with the dirtiest ammunition and in adverse conditions.
The AUG A3 M1 has all the classic features and benefits that established it as the pinnacle of modern rifle design, including expedited disassembly as well as simple conversion to left-hand operation, which requires replacement of the standard bolt with the optional left-eject bolt and swapping the ejection-port cover. It also features a quick-change barrel with a collapsible forward grip as well as a two-position cross-bolt safety that locks the trigger.
As always, thank you for reading the Blog at gunshinearms.com