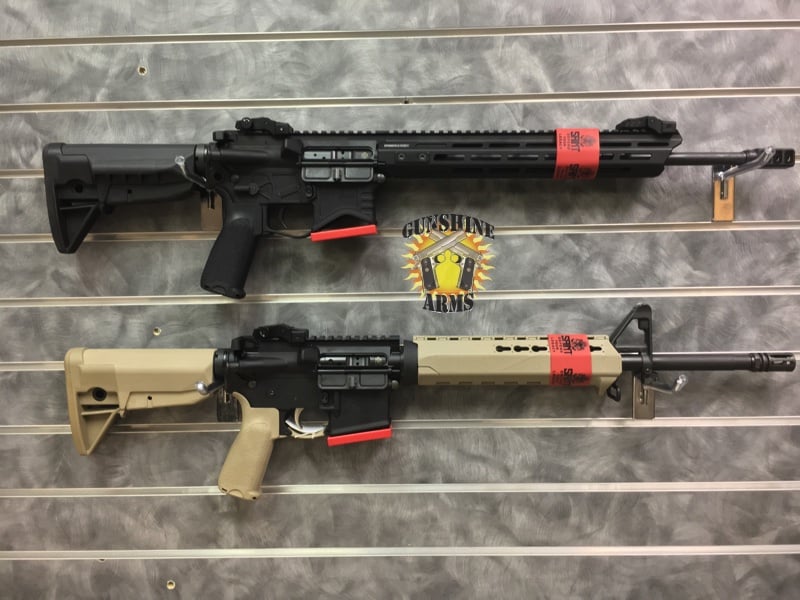 Good afternoon all.  Always like to see new releases from Springfield Armory.  We received two rifles in from Springfield today.  The original Saint Rifle and the new Springfield Saint Edge Rifle.  Both offer extraordinary value but the new Saint Edge Rifle cranks up the function and form to a new level for Springfield Armory.
The Springfield Saint Edge Rifle offers premier components for quick-handling, improved accuracy, and performance comparable to custom AR builds costing much more.  At just over 6 lbs. the Edge is one of the lightest AR-15s on the market, featuring a patent-pending free float handguard and billet receiver with lightening cuts for effortless operation.  An SA proprietary muzzle brake virtually eliminates recoil, while the Melonite-treated trigger allows for a crisp trigger press with no creep. The Accu-Tite™ tension system ensures a tight fit with no rattle between the upper and lower receivers, paired with a premium M16 BCG that has been shot peened and MPI tested for reliability.  Adjustable pinned gas block, 1:8 twist, flared mag well, metal flip-up sights and Bravo Company furniture.
The original Springfield Saint Rifle, that you see in FDE at the bottom of the picture, changed the landscape of the AR market when it was released.  There is nothing out there that competes with the Saint at it's price point.  The SAINT's flat top design is optics ready and includes a flip-up rear aperture sight and fixed A2-style front. The 16-inch Chrome Moly Vanadium barrel features a 1:8 twist rate to handle a wide range of bullet types. The operation of the M16 bolt carrier group is managed by a mid-length gas system paired with a heavy tungsten buffer, resulting in an exceptionally smooth action. A good shot starts with the trigger, so that's why the SAINT™ AR-15 features micro-polished and Nickel Boron treated components. While it offers the right pull weight for defensive use, you won't feel it.
Unlike most defensive rifles in its price range, the SAINT™ AR-15 includes top notch furniture designed to improve both shooting experience and operator performance. An all new, exclusive Bravo Company PKMT KeyMod handguard packs heat shields and flexible attachment points into a slim and easy to handle form factor. The Bravo Company buttstock is rattle-free and complemented by a Bravo pistol grip designed to improve defensive performance.
You can't go wrong with either of these rifles but I have to say that the new Springfield Saint Edge Rifle really just raised the bar again.  As always, thank you for reading the Blog at gunshinearms.com