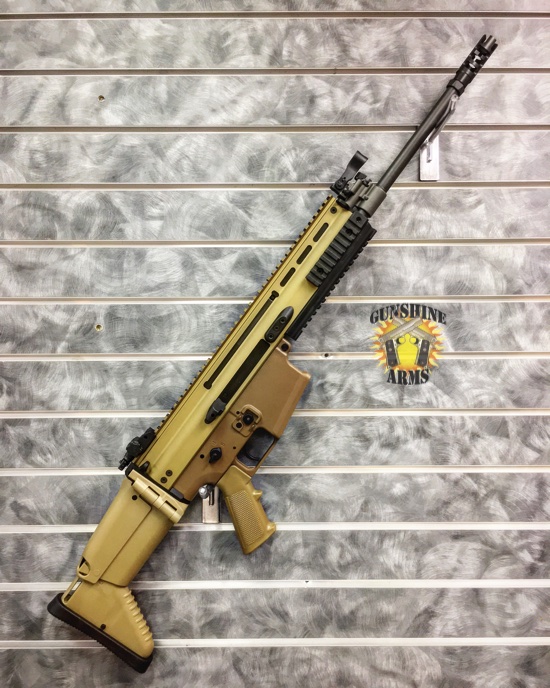 New Belgian FN SCAR 17S Rifles have landed!  For those of you that have always wanted a Belgian made SCAR, now is the time to acquire one.  It was just announced that all manufacturing for the SCAR 17 is going to be here in the United States within a short period of time.  There is going to be some upside on these Belgian rifles long term in addition to just being a badass rifle.
Chambered in 7.62x51mm, the FN SCAR 17S features a free-floating, cold hammer-forged MIL-SPEC barrel with hardchromed bore. Fully-ambidextrous operating controls instantly adapt the FN SCAR 17S to any user or any shooting position. The receiver-integrated MIL-STD-1913 optical rail plus three accessory rails enable mounting of a wide variety of scopes, electronic sights, tactical lights and lasers. The telescoping, side-folding polymer stock is fully adjustable for comb height and length of pull, making it ideal for Heavy Metal 3-Gun matches.
The MK 16 and MK 17 rifles operate on the short-stroke gas piston system. As the bullet passes the gas port in the barrel a portion of the propellant gases are routed through the gas regulator to the gas piston located below the front sight post. The gas pushes rearward against the piston, which drives the moving parts assembly rearward to eject the fired case and load a new cartridge from the magazine. Excess gases are vented forward through the gas vent hole in the front of the gas regulator. The advantage over the direct gas impingement system is that heat, soot and carbon from propellant combustion are not routed into the bolt or chamber, keeping these critical areas cooler and cleaner for greater reliability and enhanced accuracy. When compared to a direct gas impingement system that has been adapted to use a gas piston or operating rod, the FN SCAR gas system proves to be more simple, robust and reliable. The first position on the gas regulator is for normal operation, while the second position ensures there is no increase in the cyclic rate of fire when using a sound suppressor.
Come by and pick one up if you've been thinking about this weapon.  Pretty soon, the Belgian made rifles will be a thing of the past.  As always, thank you for reading the Blog at gunshinearms.com