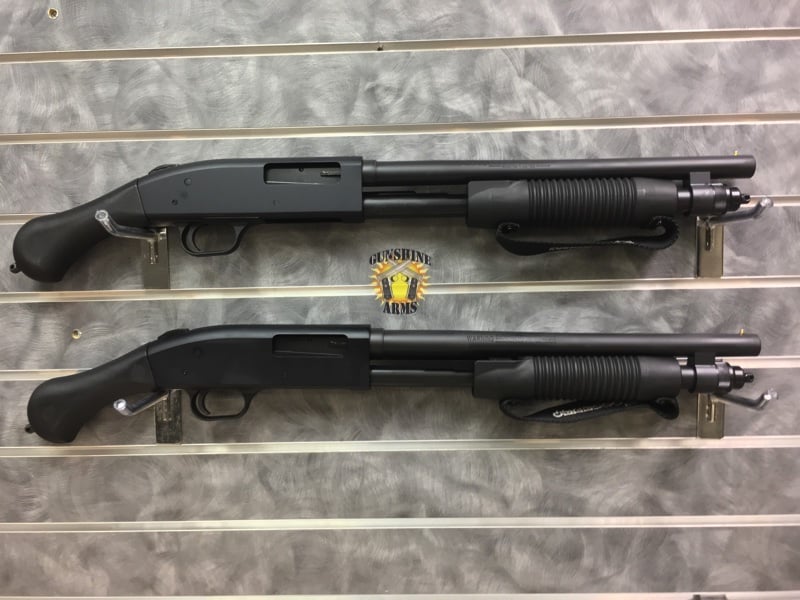 We just received a new shipment of the Mossberg 590 Shockwave 20 Gauge Firearms this morning.  These weapons are much more manageable than the 12 gauge version.  We also have 20 gauge slugs and #4 buckshot in stock as well.
Featuring a 14-inch barrel, "birds head" pistol grip and an overall length of 26.4 inches, the 590 Shockwave does not fall under the purview of the National Firearms Act (NFA) and does not require additional paperwork or the payment of a tax stamp for transfer.  Federal Law does require the purchaser of this firearm to be 21 years of age. And coinciding with the announcement of this new 590 Shockwave, Mossberg is pleased to announce that the 20-gauge versions are already in production and shipping to wholesalers.
Based on the 590 pump-action design, the 20-gauge version of the Shockwave required an engineering redesign as this is the first time that Mossberg has offered the 590 platform in a smaller gauge. In addition to a scaled-down receiver, the cob-styled, tactical forend was reduced in overall size. Weighing in at a mere 4.95 lbs, this compact 20-gauge firearm combines the field-proven design of Mossberg's legendary pump-action platform with the innovative Raptor® pistol grip from Shockwave Technologies; strapped forend for safe, controlled handling; and 6-round capacity.
At the core of the 590 Shockwave is Mossberg's field-proven design which includes non-binding twin action bars; positive steel-to-steel lock-up; an anti-jam elevator; dual extractors; and Mossberg's universally-recognized, ambidextrous top-mounted safety. The lightweight receiver is constructed of anodized aluminum and is drilled and tapped for ease of adding an optic or accessories.  The magazine tube features a convenient clean-out cap. This 20-gauge is 2 ¾ and 3-inch capable with 6-round total capacity and features a 14-inch, heavy-walled barrel with bead sight and matte blue finish. Rear and magazine cap sling swivel studs complete this compact package.
The "bird's head"-shaped pistol grip from Shockwave Technologies provides this 590 with its distinctive name. The Shockwave Raptor grip features an enhanced textured finish, allowing for maximum control while minimizing felt recoil. The grip is constructed of durable, glass-filled polymer with non-reflective, black finish and overall length of 5.25 inches.
As always, thank you for reading the Blog at gunshinearms.com