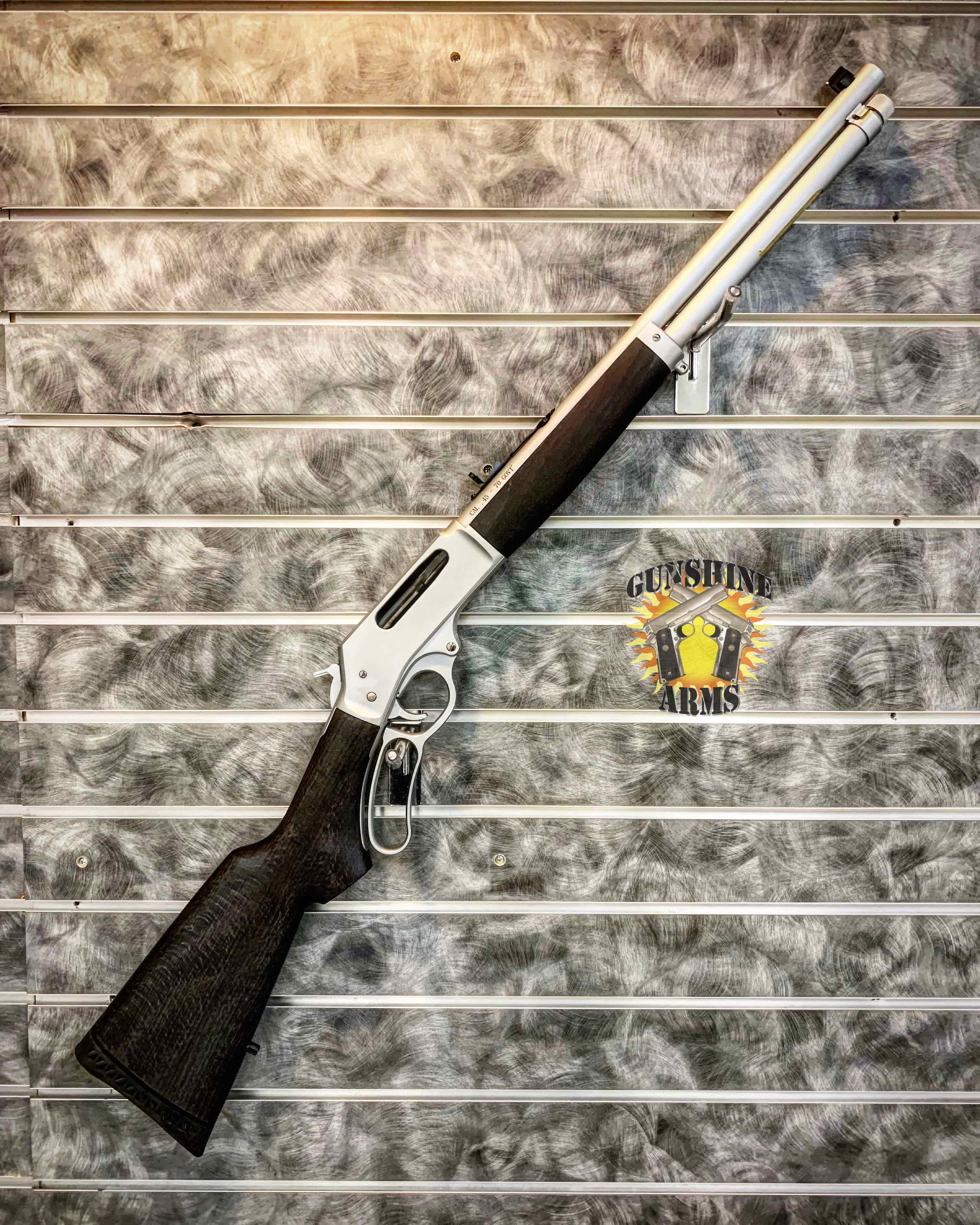 The Henry All-Weather Lever Action chambered in .45-70 Government has an 18.43" round barrel with 4-shot magazine tube, and adjustable buckhorn/bead sights. Like the blued rifles, the All-Weathers also wear the same wrist profiles, a pistolgrip in the .45-70. The major differences between the standard blued rifles and the All-Weather rifles are that Henry used hard chrome plating on all metal surfaces (except springs and sights), and a durable industrial-grade coating on hardwood furniture.
In a tough world where a working rifle might be "rode hard and put away wet", this Henry All-Weather Lever Action has the finish you want on it. A very strong plating permanently bonded to the steel underneath, hard chrome doesn't flake, chip, or peel, and its corrosion resistance is actually stronger than some stainless steels. The treatment they use increases surface hardness, reduces friction on moving parts, doesn't normally scuff or scratch, and leaves a low-gloss look that won't spook game.
Henry based a good part of their reputation on select American walnut over the years, but here they've opted for a stained hardwood with a carefully-selected coating that's formulated to stand up to wear, tear, scratches, moisture, temperature variations, and the angst of the various "character marks" an everyday outdoor tool inevitably picks up during its lifetime.  This weapon is built to withstand the harshest of us when it comes to a field gun and the caliber is meant to drop anything that you can hunt on the North American continent.
If you are looking for a real utility/hunting rifle, this could be just what you want.  Come down and put it in your hands.  As always, thank you for reading the Blog at gunshinearms.com