Great RUGER 10/22 Options…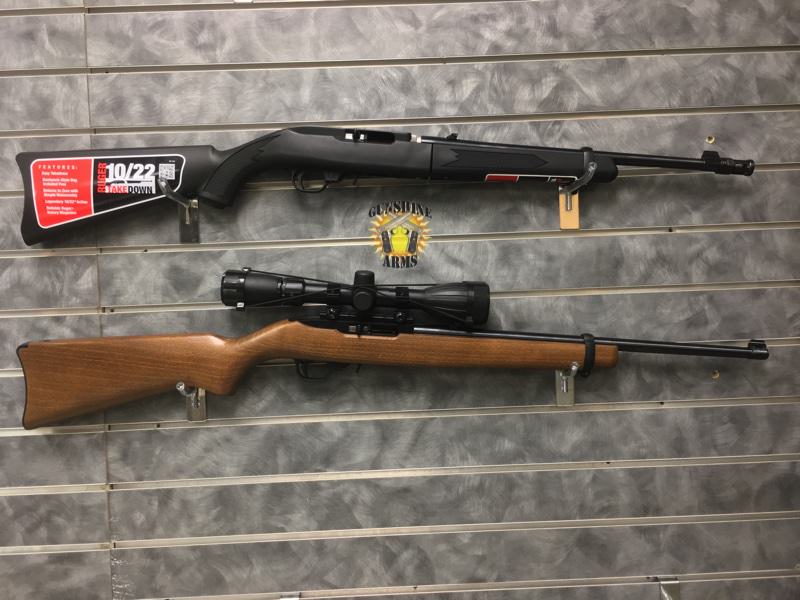 Good afternoon all.  Some great options in the shop today if you are in the market for a nice .22lr semi-automatic.  It may be unbearably hot out there today, but the fun outdoor gun season is just around the corner.
The Ruger 10/22 Takedown is the ultimate backpacker/prepper .22 rifle.  Breaks down easily into two component parts that are about the same size, it's light weight, comes with a 10rd rotary magazine but takes the BX-25 mags, and comes with a nondescript soft carrying case that has compartments inside for the broken down rifle and whatever else you may need to bring with you.  She also has a threaded barrel and .22lr's are one of the better rounds for sound suppression if you are a tax stamp collector.  This rifle is a no-brainer for a bug-out bag or a day at the range.
The rifle at the bottom of the photo is the Ruger 10/22 Carbine that comes from the factory with a BSA 3-9X40 Scope.  Whether you want to get your kids into shooting, or you want an inexpensive plinker to take to the property and have some fun with, this combo is a great choice out of the box.
Come down and take a look and you might end up leaving the shop with a great new rifle to enjoy.  As always, thank you for reading the Blog at gunshinearms.com