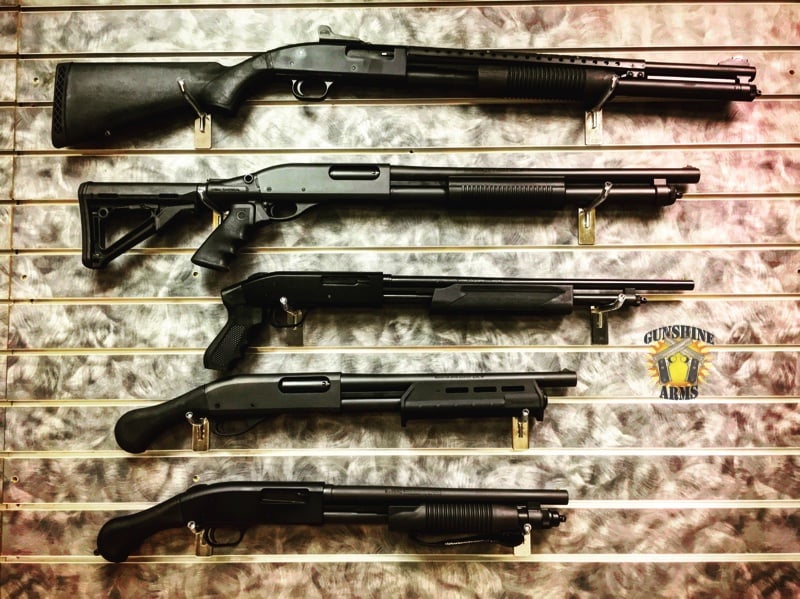 Lots of Great Home Defense Shotgun choices in stock here at Gunshine Arms today.  Starting from the top is a Mossberg 500 Tactical with heat shield and ghost ring sights.  She has an 8 shot capacity and is chambered in 12 gauge.
Next one down from the top is the Remington 870 Tactical has an 18.5″ barrel and a 6 + 1 capacity 12 gauge pump action shotgun with an adjustable 6 position stock.    The middle shotgun is a pistol grip .410 gauge Mossberg 500 Home Security which has a 6 + 1 capacity and is ideal for homes in which there are people that can't handle the recoil of a 12 gauge but still need something small enough to wield in a tight space that has the ability to put an intruder down.
The fourth one down is the new Remington 870 Tac14 12 gauge weapon.  It's technically classified as a pistol so it can't be sold to anyone under 21.  She has a 4 shot capacity. Featuring legendary Model 870 reliability, a Raptor pistol grip and Magpul M-Lock forend, its powerful personal protection at its absolute shortest.
Last but not least is the Mossberg 590 Shockwave at the bottom of photo.  She's chambered in 20 gauge to give you a little more manageability, and less recoil, in a small home defense package.  With a 5+1 capacity, this is a great option for a compact home defense shotgun.
You can't make a wrong decision here with any of these choices.  The only bad decision, is to not decide at all.  As always, thank you for reading the Blog at gunshinearms.com