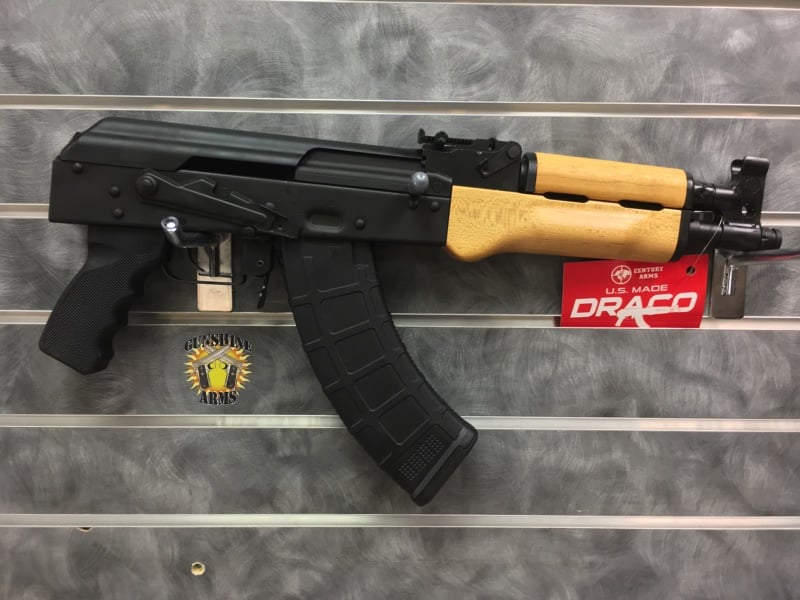 The DRACO AK Pistols have been hard to find this year so I'm happy to see one come through the door during the Christmas season!  These fall into the category of weapons I like to think of as "trunk monkeys" (google "trunk monkey car ads" to see why I think of them this way…it's worth a smile).
Century Arms, North America's premier AK manufacturer, has completed the release of a 100 percent U.S. made version of the highly sought after Draco AK47 Pistol to meet rapidly increasing market demand.
"The Romanian Draco Pistol imports have been infrequent due to Military and Government contracts at the Cugir factory," said Jason Karvois, Century Arms Director of Sales. "Due to the popularity of the Draco pistol, and overwhelming demand, Century Arms has started to manufacture the Draco pistols at our Vermont factory to be able to consistently offer them to the U.S. market."
Based on the AK47 rifle design, the Draco pistol combines rifle-cartridge firepower in compact pistol-form. Chambered in the ever-popular 7.62x39mm cartridge, the Draco pistol features a 10.5" barrel and weighs 6.3 lbs., making it lightweight and handy in tight quarters.
The U.S. Draco comes standard with a maple wood handguard, standard AKM sights, readily accepts any AK47 magazine or drum, and best of all – is completely made in the U.S.A.!
The Draco pistol is an extremely durable firearm that provides unmatched reliability in various conditions. A small package with rifle firepower, the Draco pistol provides the perfect choice for close-quarters confrontations, an ultimate truck gun, or just the perfect tool for maximum fun at the range.
This is an affordable answer to people who are looking for a close quarters weapon with a lot of whomp built in.  They can also be converted to an SBR by submitting paperwork to the NFA Branch of BATFE or can be equipped with a pistol stabilizing brace.  Happy to see these weapons home for the holidays.  As always, thank you for reading the Blog at gunshinearms.com