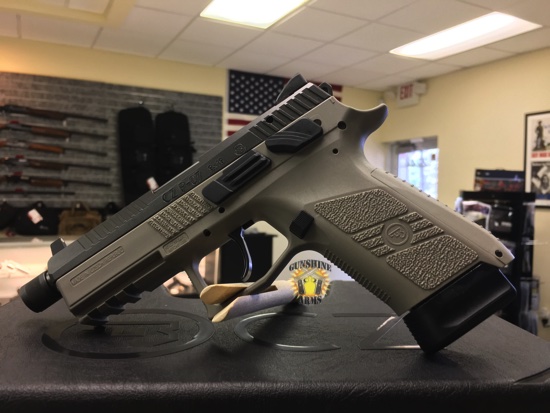 Part of the Urban Grey Suppressor-Ready Series, this CZ P-07 is clad in urban grey (a mix of grey and FDE). With threaded barrels, high suppressor sights with tritium lamps and extended capacity magazines, the Urban Grey pistols are a direct response to the many requests from customers for more suppressor-ready options.
The CZ P-07 is the updated version of the CZ 75 P-07 Duty. The debut of the full-size P-09 brought refined lines and interchangeable backstraps to our polymer Omega line. The P-07 follows suit, with new features and a nitrated slide finish that wears longer and has increased corrosion resistance. The pistol as a whole has been dehorned, removing any sharp edges to make it more comfortable for all-day carry.
Like the P-09, the P-07's safety and decocker are interchangeable with a few minutes and minimal tools. Add to that small, medium and large backstraps and an integrated 1913 Picatinny rail on the dust cover and the P-07 is adaptable to the shooter and their needs, from service pistol to bedside protector to the envy of the shooting range.
The P-07 shares the P-09's updated trigger shape which is more comfortable for long days at the range, as well as its snag-free hammer and forward cocking serrations. Metal 3-dot suppressor height night sights and a beefed up magazine spring round out the bevy of updates, resulting in the best P-07 we've had to date.
I own and carry a P-07 on a daily basis.  It is one of the most naturally pointing sidearms you will ever pick up.  It's affordable, fun to shoot and reliable.  Great weapons at a steal of a price.  There is a ton of value in the whole CZ lineup from the entry level sidearms all the way up to the big $ competition guns.
As always, thank you for reading the Blog at gunshinearms.com