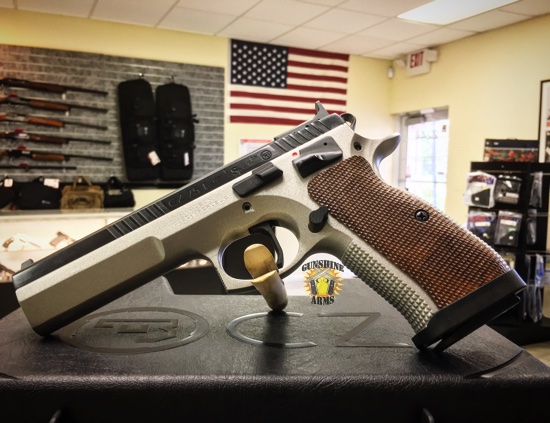 If you follow the New Arrivals here in the shop, you know I love CZ.  The CZ 75 Tactical Sport is an out of the box competition monster with a scary sweet SAO trigger and the ergonomics and pointability (I know that's not a word but it should be) we have all come to expect from CZ.
This CZ 75 Tactical Sport is chambered in 9mm although they also come in .40 S&W. The CZ 75 TS is a competition-ready pistol designed for IPSC standard division (USPSA limited division). The weight and balance of the CZ 75 TS are optimized for the rapid, accurate style of shooting necessary for success in practical shooting disciplines. The Tactical Sports model is the next generation of the proven CZ 75 Standard IPSC. The TS retains all of the best features of Standard IPSC model and improves upon the platform with increased durability, new sights, a new trigger system and more.
The TS features a full-length dust cover, a 5.23″ barrel as well as a slightly larger grip to accommodate the higher capacity (20 round) heavy  duty magazine. Other features include a fixed rear sight, ambidextrous safety, extended magazine release, SA trigger, checkered front and rear strap and a gaping magazine well for the fastest magazine changes.
If you are looking for a great competition/race gun, or just looking for one of the finer pistols you can put your hands on to go enjoy some range time…this CZ 75 Tactical Sport is worthy of a visit.
As always, thank you for reading the Blog at gunshinearms.com