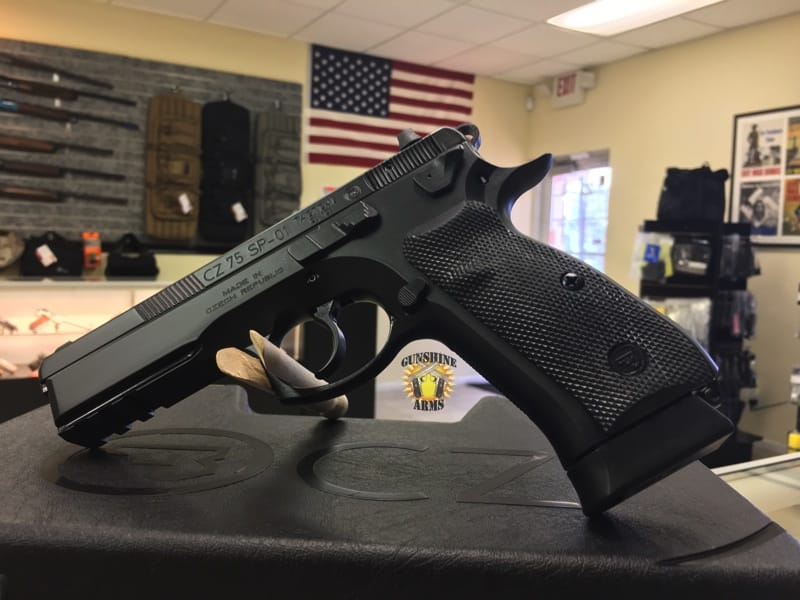 They are not small or light, but man do these weapons run!  Those of you that frequent the shop, know that a nice selection of CZ is a staple here.  The CZ 75 SP-01 Tactical is one of the true work horse pistols in the CZ lineup.
The Tactical variant of the SP-01 utilizes an ambidextrous decocker in place of the manual safety on the standard SP-01.
The CZ 75 SP-01 Tactical is the first full size handgun (4.6" bbl) from CZ to feature the improved manufacturing technology and ergonomics of the NATO-approved CZ 75 Compact P-01 model. Featuring an integral 1913 accessory rail on the dust cover, rubber grip panels, and CZ's corrosion resistant black polycoat finish, the SP-01 is the newest model to join the family of pistols based on the CZ 75 (SA/DA) platform. Borrowing from the improved grip geometry of the compact P-01, the CZ SP-01 Tactical utilizes an extended beavertail to protect shooter's strong hand as well as allowing for a deeper and more secure grip. The new grip geometry, checkering in key areas on the front and back straps, and redistribution of mass provided by the accessory rail noticeably decrease the perceived recoil from previous models and allows for more rapid target acquisition and transition.  All of those features are topped off with a couple of 18 round magazines from the factory.  This is one hell of a 9mm sidearm for the price point that CZ puts these into the market at.
The CZ SP-01 Tactical was designed as a military and law enforcement duty sidearm. The new model is currently in use by security forces fighting the war on terrorism. Thanks to its exceptional accuracy and superior handling characteristics, the CZ 75 SP-01 has also found supporters in the field of sport and target shooting. Its list of users on the competition circuit include World Champions Adam Tyc and Angus Hobdell (1st and 3rd place respectively in 2005's IPSC championship, World Shoot XIV).
As always, thank you for reading the Blog at gunshinearms.com