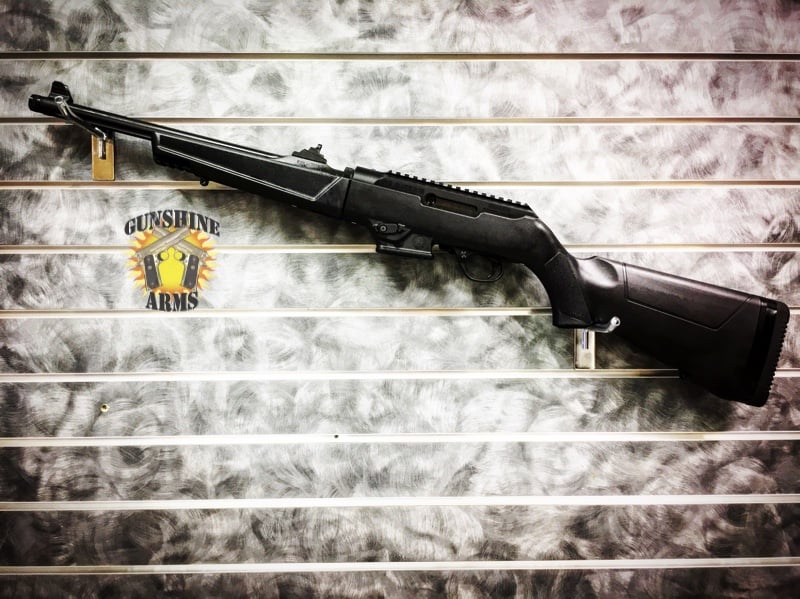 I don't normally start off like this but, this Ruger PC Carbine 9mm is an absolute homerun from Ruger.  Throughout the five plus years that the shop has been OPEN for business, one of the most recurring questions I've gotten is "can you find me a solid 9mm home defense carbine at a reasonable price?".  Ruger answered that question with a weapon that is packed full of features.
One of the biggest issues with 9mm carbines is magazine compatibility and ease of use across platforms that people already own.  Welcome to interchangeable magazine wells for use of common Ruger and Glock magazines.  She ships with SR-Series Pistol and Security-9 magazine well installed and an additional magazine well accepting Glock magazines is included.  Reversible magazine release and reversible charging handle to support ambidextrous use or one-handed control manipulation while maintaining a proper firing grip.  Keep in mind that the Ruger PC Carbine 9mm is only compatible with 9mm Glock magazines that have the magazine release catch on one side (left) when the mag release is kept on the left side of the rifle (it can be reversed).  No biggie.  If you want to reverse the controls to facilitate a left hander, you need to use the Gen4 mags instead of the Gen3 mags.
Those of you that are fans of the 10/22 Takedown, this will put a serious smile on your face.  Easy takedown enables quick separation of the barrel/forend assembly from the action for ease of transportation and storage. Takedown is as simple as locking the bolt back and verifying that the rifle is unloaded, pushing a recessed lever, twisting the subassemblies and pulling them apart. Same exact takedown action as the 10/22.  Awesomeness continues.
Not that 9mm has a lot of recoil to begin with but Ruger addressed recoil as well.  Dead blow action features a custom tungsten dead blow weight that shortens bolt travel and reduces felt recoil and muzzle rise. Bolt is machined from heat treated, chrome-moly steel to ensure strength, structural integrity and durability.
Cold hammer-forged, chrome-moly steel barrel with ultra-precise rifling provides exceptional accuracy, longevity and easy cleaning. The heavy contour barrel provides consistent accuracy, while barrel fluting sheds unnecessary weight and allows for quick handling.  1/2″-28 threaded barrel with included thread protector allows for use of standard muzzle accessories which will put a smile on the faces of my tax stamp collectors.
In addition to a welcoming Picatinny Rail ready for a red dot optic, an accurate sighting system with adjustable ghost ring rear aperture sight and non-glare, protected blade front sight come standard.
All in all, if this thing shoots…and by all accounts it does that very well, then we shouldn't be able to keep this weapon in stock at the price point it's being released at.  Come by and take a look at the new Ruger PC Carbine 9mm.  As always, thank you for reading the Blog at gunshinearms.com